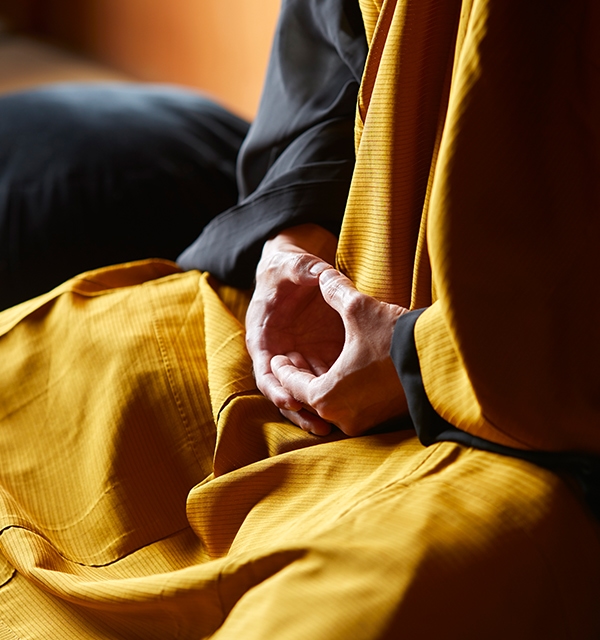 STUDY
BODY AND MIND
2018.03.30
2017 Zen Branding Project Zen Body and Mind Research Team Research Plan Overview
 In recent years, zen has been getting attention all over the world. The reason for this may have something to do with the "mental problems" that have developed as a result of the rapid changes in modern society. There's a phrase in Zen Buddhism, "Mind and body as one". The body and mind are always a single unit, and can never be separated. That's what it means. We are conducting research using scientific analysis to determine the effects of "Zazen" on the bodies and minds of practitioners.
 The methods we use for scientific visualization of "Zazen" are brain wave measurement and Magnetic Resonance Imaging (MRI). The purpose of this research is determining whether the changes Zazen produces in the body and mind can be seen in these numeric and visual representations. We also hope to scientifically verify the causal relationships of the effects that Zazen has on people's stress and mental health using objective data. In addition, we hope to propose methods for handling the mental problems faced by modern people from the perspective of Zazen.
 Currently, we are classifying prior research and conducting site surveys. We are gathering data and conducting analysis to determine the ways in which Zazen posture and breathing are related. Also, we are planning to conduct cooperative research with the "History of Soto Zen Buddhism Team" and the "Influence of Zen Buddhism in Japan Team" in the future. We hope to share the results of our research on this page.
【Leader】
NAKO Yasunobu (Associate Professor, Faculty of Health Sciences)

【Members】
・Faculty of Health Sciences:NAKO Yasunobu, YOSHIKAWA Kohki
・Faculty of Letters:SUZUKI Tsunemoto, CHIHARA Tadashi, TANIGUCHI Yasutomi, ARAI Hiromichi, KUBO Naoya, KOMURO Hisayoshi
・Faculty of Economics:MATSUI Ryuhei, EGUCHI Masataka, SOGA Nobutaka,YANO Koichi, INOUE Tomohiro, MASUDA Mikito, SUZUKI Nobue, TACHI Kentaro, NISHIMURA Takeshi
・Faculty of Arts and Sciences:SUZUKI Junpei
・Extramural Participants/SEO Yasutsugu, TANAKA Masahide